Finally got it reg'd and took it on another "1st" drive on some of the nice driving roads around here.
I did a nice loop to pick up my kid from Soccer with my younger son riding in the car, he fell asleep in the back seat in like 10 minutes, which was good so I could pay attention to the car instead of him talking my ear off about some super hero movie.
I smelled some oil and sure enough had a leak which sprayed down my freshly cleaned engine compartment. The leak was from the oil line to filter, which was kinked slightly upon installation. Line has been replaced and leak is fixed.
Next "real" 1st drive included a couple of pulls over the mountain on a hot day. Oil pressure is good and temp stayed under 1/2 at the top of the long hill. This was encouraging but on the way down the hill I could here a sound when driving along side a guard rail. I removed the gen belt for a quick check and noise persisted. This brings me to the next project;
The noise was a broken intake valve spring on #3 intake, which led to all new valve springs and full rocker gear replacement with that from my original C engine. Some of the valve springs had some pitting and should not have been reused. This was an opportunity to swap out the mag stands on the 912/S90 mystery motor with the alloy stands from the C. The rocker tips had some wear and the C's are in excellent shape so I swapped the entire assembly out after cleaning/measuring/inspecting everything. I hate to borrow parts from the original engine, but it was my only option . This was a major pita to do with engine in car, but got it done after a 3 day fight . I had to modify a spring compressor to work on these heads and the whole process took a very long time. I also had to make some go/no go jigs to measure installed spring height.
90 rocker asm with mag stands replaced with complete C asm with alloy stands.
All C rocker parts were cleaned and inspected, everything is in excellent condition. I hate to borrow these parts from the original engine, but they will go back when I rebuild it. The 912 rocker shafts are mostly OK, I plan to send the assembly out to have the rockers resurfaced (if possible).
Worn S90 rocker compared to C rocker.
My son checking pushrods.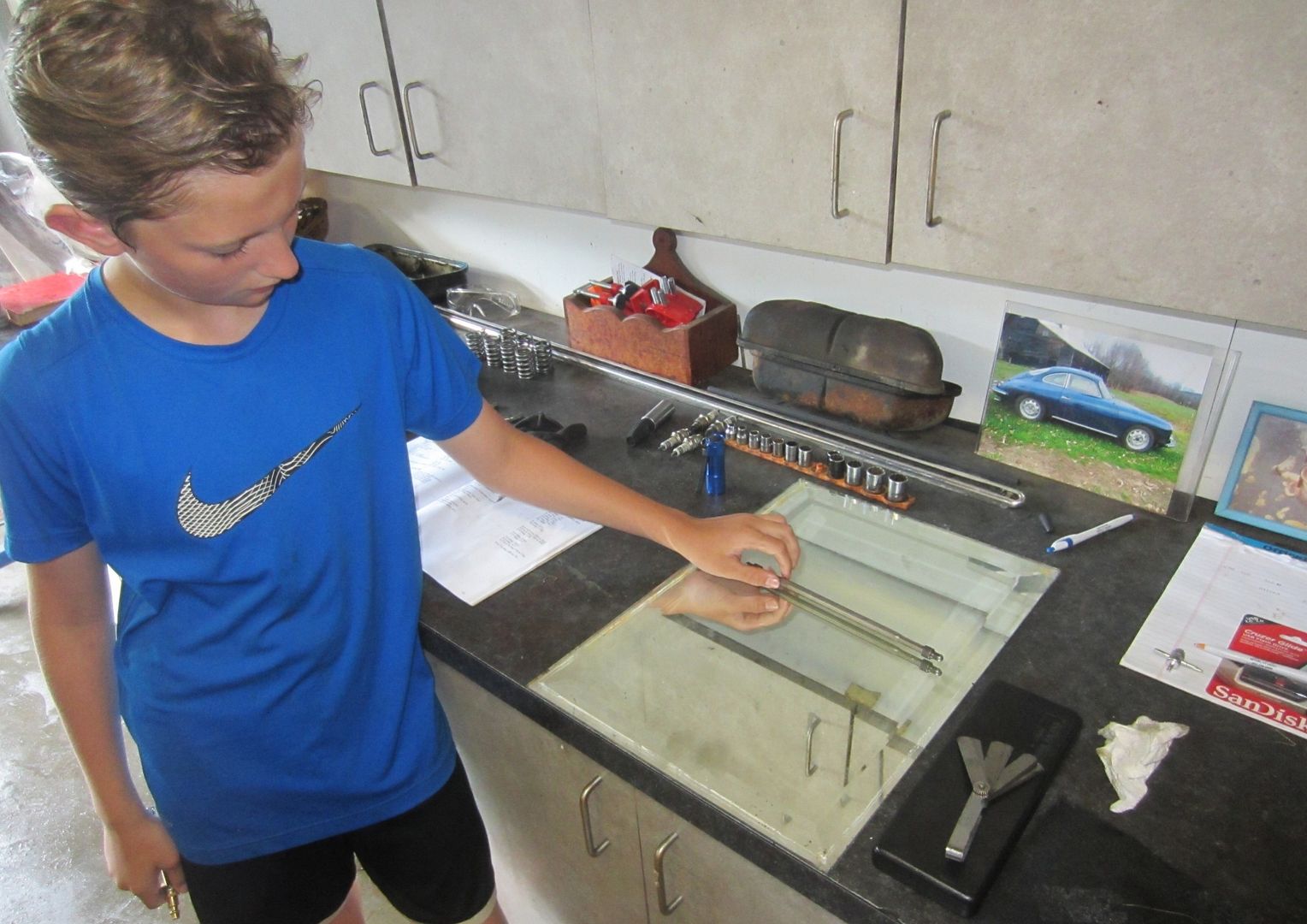 Everything reinstalled and running well. Oil passages in adjusters are pretty much centered on rocker passages. Valve adjust seemed easier with the good rocker tips. Engine is noticeably quieter and oil psi same (40-50psi).
I'll report back after next 'maiden voyage'.